If you don't remember "Bruce Lee" from the Commodore 64 you shouldn't even be here. If you do, on the other hand, rejoice!
Ok, if you don't remember "Bruce Lee", you're of course still free to rejoice, too: One of theee classic C64 games of all time has been remade as "Tiger Claw", originally for the C64, and is now being commercially released for the Amiga! (And Windows, MacOS, Linux, btw.)
"Bruce Lee" original C64 version title screen (1984)
Developers Lazycow and Saul Cross weren't lazy at all, and have updated their game since 2014 with extra features, a training mode, and even a deathmatch arena. Now they've created ports for the several platforms, including the Amiga (1MB RAM required). Heeeeeee-haw!
"Tiger Claw" Amiga in-game graphics (2018)


The release appears to be just perfect: you can download digital copies from
itch.io
for all platforms, in several different file formats (.iso, .adf, ...) - but the real fun starts with the awesome physical release: The beautiful box (see image below) contains a bootable, labelled CD-ROM in a jewel case, a floppy label for your private backup copy, stickers, a poster, a 20-page manual, pin-buttons, postcards - man, you even get a shuriken!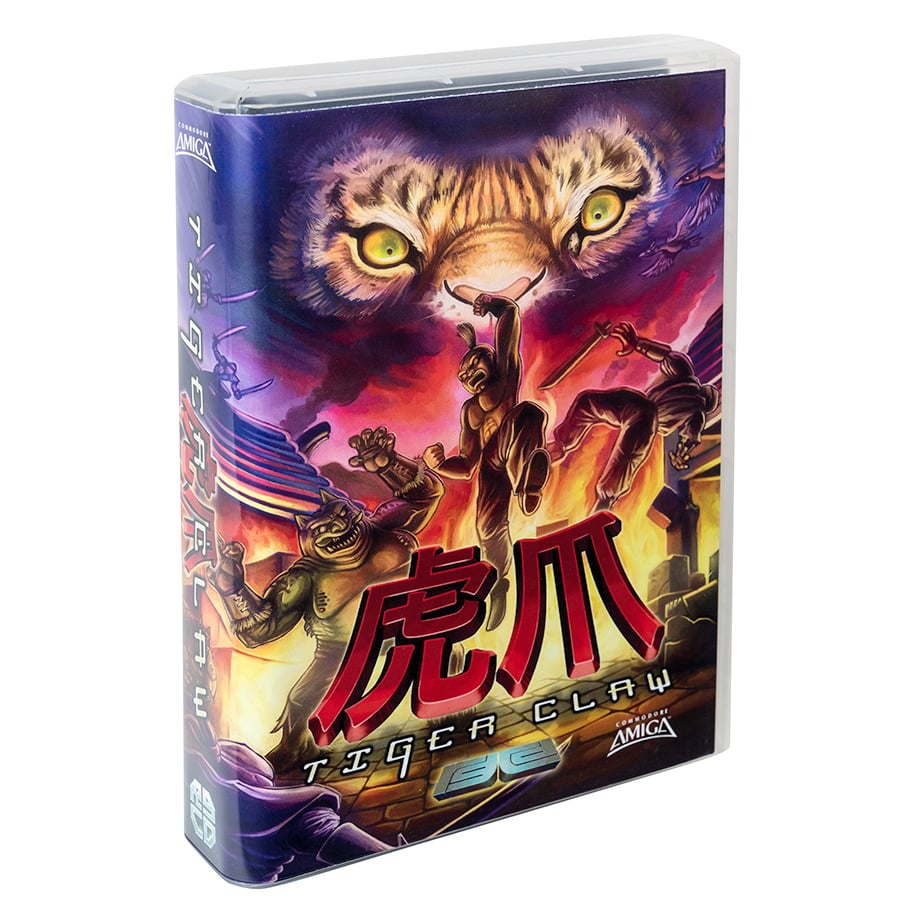 "Tiger Claw" box artwork - awesome!
This is a no-brainer, a must-have. "Tiger Claw" is probably the most lovely game release the Amiga has seen since "Frontier - Elite II". The game alone is really great, but the physical packaging is just outstanding. Check the links below (see "Sources") for more information if you're still hesitating.
In other words:
Yeeeee-eeeee!
Fight your way through to https://rgcd.bigcartel.com/product/tiger-claw-amiga and buy your copy!
Haaaaww!
Sources:
http://amiga-news.de/en/news/AN-2018-12-00032-EN.html
http://www.lazycow.de/tigerclaw/
https://en.wikipedia.org/wiki/Bruce_Lee_(video_game)
https://rgcd.bigcartel.com/product/tiger-claw-amiga
https://assets.bigcartel.com/product_images/228527633/anim.gif
https://assets.bigcartel.com/product_images/228527426/RGCD+Dec18-4.jpg